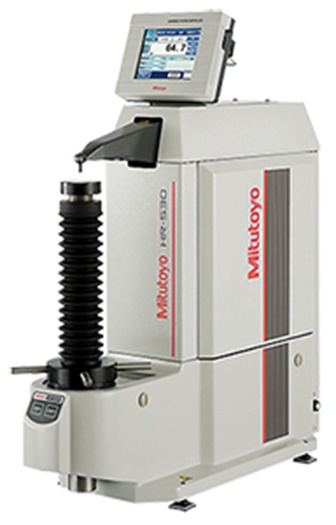 Mitutoyo HR-530 Series Digital Rockwell/Rockwell Superficial Hardness Testers
Unique electronic control makes the HR-530 series of hardness testers capable of Rockwell, Rockwell Superficial, Rockwell testing of plastics (A & B) and Light Force Brinell hardness testing.
A nose-type indenter enables measurement not only of the flat top surface of a specimen, but also the inside surface of a cylindrical specimen. This series allows numeric display of statistical analysis results such as maximum and minimum values, mean value and graphic display of X¯ -R control charts and histograms required for hardness evaluation. Statistical calculation results and test conditions can be stored as text data and graphs can be stored as graphic data. The required hardness scale can be selected with the touch panel. The initial test force and loading force are automatically set in accordance with the selected scale. The curved-surface correction function enables curved surfaces, such as round bars and spheres, to be tested for hardness as easily as flat surfaces.
Brochure
| Item # | | Description | Qty |
| --- | --- | --- | --- |
| CALL FOR CONFIGURATION/QUOTATION | | Mitutoyo HR-530 Series Digital Rockwell/Rockwell Superficial Hardness Testers | |