Our Lab's For You
Allied High Tech Products, Inc. offers customers and clients year-round, complimentary access to our modern, fully equipped laboratory, and dedicated technical and engineering team.
We actively promote the use of our facilities, equipment and consumables in the rapid, confidential development of procedures and applications. Since our lab personnel are devoted solely to these pursuits, and to product research and development, we can often help customers dramatically reduce the time spent on such endeavors. This enables our clients to maintain focus on their highest value activities.
An Experienced Staff
The Allied Applications Laboratory is staffed by leading industry experts, including managers with more than 80 years of combined experience, degreed materials engineers with deep scientific and applications expertise, and materials sample preparation staff trained by one of the world's leading materials companies. Experience with materials and products from all facets of life and industry means a deep understanding at Allied about the questions and challenges faced by metallographers.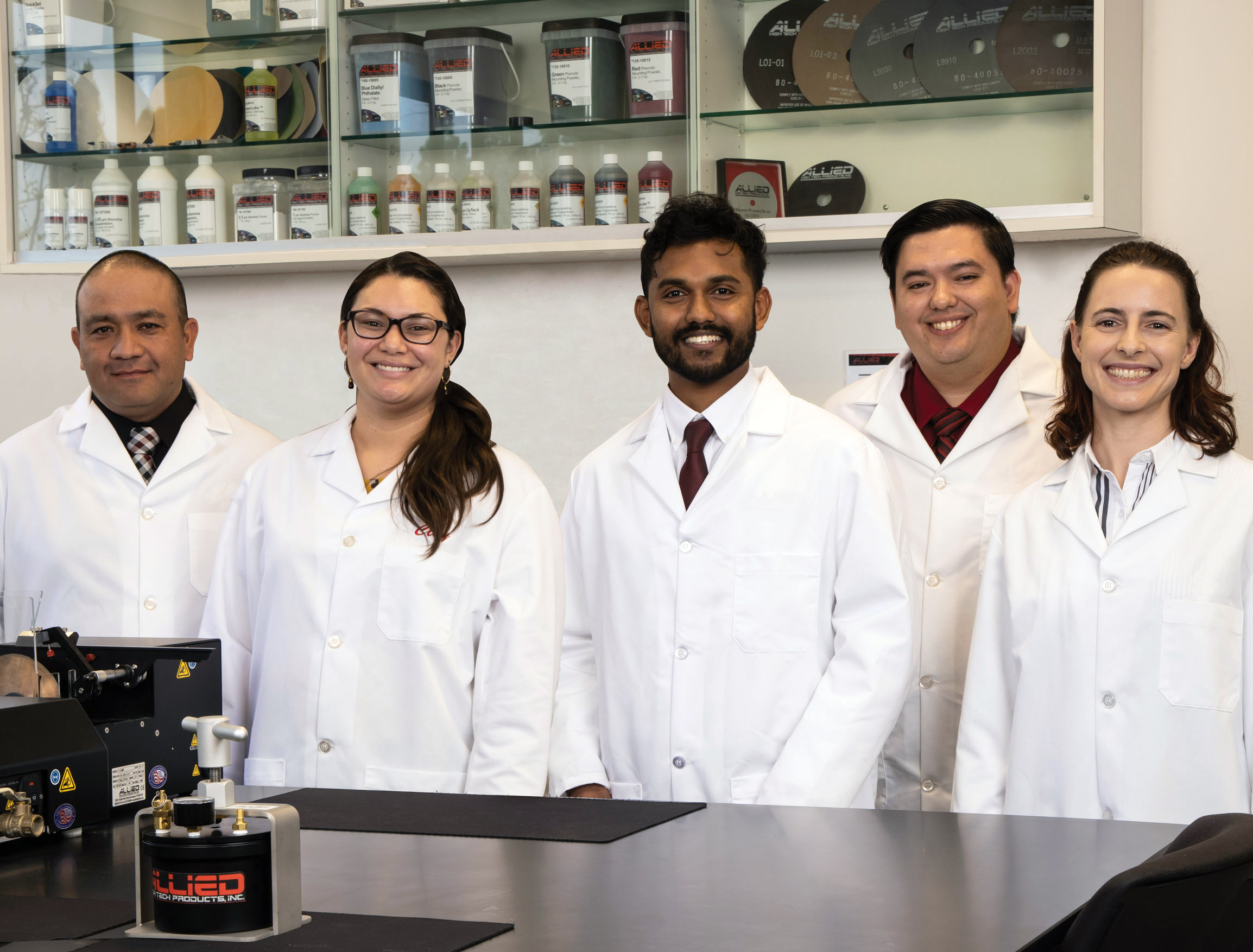 Complimentary Services
Procedure & Application Development

Have a tough procedure or preparation problem? Let Allied help. Our rate of success in resolving tough issues is excellent. And our work on your behalf is always confidential.

Problem Solving

Have an application problem? Need help selecting the right product for your material? Live telephone and email technical support is available free of charge.

Application Report Database

A database of Allied Application Reports, offering detailed, step-by-step sample preparation instructions for a wide variety of materials & devices.

View Reports Database

Free Samples

See a product you'd like to try? Just let us know. Complimentary samples of most allied consumables are available for immediate delivery.
Laboratory Contact Information
Please contact your Allied Product Application Specialist, Authorized Allied Distributor, or our friendly Laboratory Staff, to request use of our laboratory, procedure/application development or problem solving.
International 1 (310) 635-2466
USA/Canada 1 (800) 675-1118