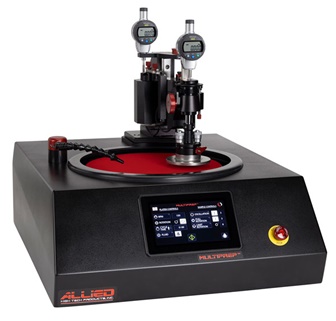 The MultiPrep™ System enables precise semiautomatic sample preparation of a wide range of materials for microscopic (optical, SEM, FIB, TEM, AFM, etc.) evaluation. Capabilities include parallel polishing, angle polishing, site-specific polishing, or any combination thereof. It provides reproducible results by eliminating inconsistencies between users, regardless of their skill. The 12" MultiPrep™ System has a scaled positioning device and higher torque rotation/oscillation motors for preparation of larger or multiple samples exceeding an area of 1,600 mm².
Dual micrometers (pitch and roll) allow precise sample tilt adjustments relative to the abrasive plane. A rigid Z-indexing spindle maintains the predefined geometric orientation throughout the grinding/polishing process. Digital indicators enable quantifiable material removal, which can be monitored real-time, or preset for unattended operation. Variable speed rotation and oscillation maximize use of the entire grinding/polishing disc and minimize artifacts. Adjustable load control expands its capability to handle a range of small (delicate) to large samples.
Brochure
Features
MultiPrep Positioning Head Features:
Front digital indicator to display real-time material removal (sample advancement), 1 µm resolution
Precision spindle that indexes the sample perpendicular to the platen, and can rotate simultaneously
Dual axis, micrometer controlled angular positioning of the sample (pitch and roll): +10°/-2.5° range (0.02° increments)
Rear digital indicator to display vertical positioning (static) with zeroing function, 1 µm resolution
Full or limited automatic sample rotation with 8 speeds
Cam-locking system that eliminates the need for tools and allows for precise repositioning of fixtures
Variable sample load: 0-600 g (100 g increments)
Designed & manufactured by Allied in the USA
Grinder/Polisher Features:
| | | |
| --- | --- | --- |
| Variable platen speed: 5-350 RPM (5 RPM increments) | | Digital timer and tachometer |
| 7" color LCD touchscreen with keypad entry to control all functions | | Clockwise/counterclockwise platen rotation |
| Seamless integration with optional AD-5™ Fluid Dispenser for automatic operation | | Electronic coolant control with adjustable valve |
| Powerful, quiet 0.7 HP (535 W) Brushless DC motor that provides constant high torque output throughout the speed range | | Stable RIM, aluminum and stainless steel construction |
| Corrosion/impact resistant cover | | Two (2) year warranty |
| Designed & manufactured by Allied in the USA | | CE Compliant for EU |
| Item # | | Description | Qty |
| --- | --- | --- | --- |
| 15-2200-12 | | MULTIPREP™ 12" PRECISION POLISHING SYSTEM, 100-240 V 50/60 Hz 1 Phase Includes: Splash Ring & Platen Cover, Dial Indicator Calibration Kit, Fixture/Accessory Storage Case | |
Product Accessories
NOTE: Precision/Magnetic Platens, Fixtures and Accessories are SOLD SEPARATELY. Please choose from the list of accessories below to ensure a complete system is configured for quotation.
| Item # | | Description | Qty |
| --- | --- | --- | --- |
| 15-1005 | Click to Enlarge » | Cam-Lock Adapter for #15-1010, #15-1010-RE, #15-1013 | |
| 15-1010 | Click to Enlarge » | Cross-Sectioning Paddle with Removable 3.1 mm SEM | |
| 15-1010-RE | Click to Enlarge » | Cross-Sectioning Paddle with Reference Edge for #15-1005, #69-50000, #69-41000, #69-41005 | |
| 15-1013 | Click to Enlarge » | TEM Wedge/FIB Thinning Paddle with 5.3 mm W x 3.5 mm D Pyrex® Insert | |
| 15-1014 | Click to Enlarge » | TEM Wedge/FIB Fixture Body and Pk/4 #69-40015 Pyrex® Inserts | |
| 15-1018 | Click to Enlarge » | Specimen Thinning Fixture with 0.5" Dia. x ~ 0.4" H (12.7 x 10.2 mm) Pyrex® Insert | |
| 15-1020 | Click to Enlarge » | Parallel Polishing Fixture, Stainless Steel, 2.25" (57 mm) Diameter | |
| 15-1020-80 | Click to Enlarge » | Parallel Polishing Fixture, Stainless Steel, 3" (80 mm) Diameter | |
| 15-1020-100 | Click to Enlarge » | Parallel Polishing Fixture, Stainless Steel, 4" (100 mm) Diameter | |
| 15-1025 | Click to Enlarge » | Teardrop Fixture 40 mm Mount Capacity | |
| 15-1035 | Click to Enlarge » | Weight Kit including: (1) 200 and (1) 100 gram Barrel Weights, (1) 200, (1) 100, and (1) 50 Gram Slotted Weights and (1) Holding Rod | |
| 15-1045 | Click to Enlarge » | Multipurpose Fixture, 2" W x 1" H x 0.75" D (51 x 25 x 19 mm) pocket | |
| 15-1046 | Click to Enlarge » | Multipurpose Fixture, 45° Diagonal Orientation, 2" W x 1" H x 0.80" D (51 x 25 x 20 mm) Pocket | |
| 15-1047 | Click to Enlarge » | Multipurpose Fixture, 1.00" W x 0.40" H x 0.45" D (25 x 19 x 11 mm) Pocket | |
| 15-1048 | Click to Enlarge » | Multipurpose Fixture, 45° Diagonal Orientation, 1" W x 0.4" H x 0.5" D (51 x 10.2 x 12.7 mm) Pocket | |
| 15-1050 | Click to Enlarge » | Cross-Sectioning Paddle Clamp Style with 0.63" W x 0.10" H x 0.25" D (16 x 2.5 x 6.4 mm) Pocket | |
| 15-1051 | Click to Enlarge » | Cross-Sectioning Paddle, Clamp Style, Diagonal Orientation with 0.63" W x 0.10" H x 0.25" D (16 x 2.5 x 6.4 mm) Pocket | |
| 120-30015 | Click to Enlarge » | Digital Indicator Measurement System, with Granite Stand | |
| 10-1010 | Click to Enlarge » | Precision Aluminum Platen, 12" (305 mm) | |
| 10-1010M | Click to Enlarge » | Precision Magnetic Aluminum Platen, 12" (305 mm) | |
| 5-8100 | Click to Enlarge » | Platen Storage Cabinet for Platens, Discs or Cloths up to 12" (300 mm) Diameter | |
| 5-8105 | Click to Enlarge » | Aluminum Tray/Shelf | |